After a torrential midnight rainfall, ominous clouds hovered over our city the morning of  Saturday, August 13…the very DAY of our Back to School Party! Our "spiritual meteorologist", Linda, got busy and by 1:00 pm: not a cloud in the sky!!!
At 2:00 pm, Vicki Bailey and a crew of about 20 teens and adults arrived at Fremont to team up with about the same number of neighborhood teens and adults to set up for the party….Games, treats, school supplies, and more!!! (A PERFECT EXAMPLE OF BRIDGING AND BRINGING FOLKS TOGETHER!)
At 3:00 pm 50 to 60 eager children and their parents signed in to get names tags, a brand new back pack, and a check off list to play the 10 or so games that had been set up.  As children played each game (run by our teens from suburb and city,) they filled their school bags with everything needed for the coming school year.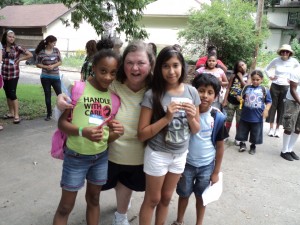 It was a peaceful, fun filled family afternoon which concluded with treats, door prizes and a PRAYER OF THANKSGIVING, not only for Vicki's generosity, but also for beautiful weather and for the upcoming school year.  We even tucked in a prayer for teachers and bus drivers and cooks!
Two wonderful offshoots of this party:  Parents have one less worry in getting their children ready for school…AND, the Sisters' neighbor and friend, Leo, prepared and served dinner for our tired but happy community…..As the neighbors say, WE ARE BLESSED AND HIGHLY FAVORED!!!
Click here to see the entire photo album.