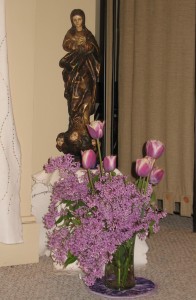 White and lavender lilacs placed in a glass vase with a sampling of other garden flowers rest at the base of the Marian statue in our second floor Girard house chapel; it serves as a visual reminder of this month specially dedicated to Our Lady.    It is here, in the presence of the Blessed Sacrament  with this image of the Mother of Jesus near,  that  our Sisters gather for Night Prayer (Compline) which,  during the Easter season, ends with the ancient Marian hymn, "Regina Coeli:"
O queen of heaven  be joyful, alleluia

For he  whom you  were worthy to bring forth, alleluia

Has arisen as he promised, alleluia

Offer now our prayer to God, alleluia
It is here, too, where in quiet prayer we seek the astounding faith that characterized the Mother of Jesus.  The Gospel gives us very few words uttered by Mary, but those we have are worth noting. Some of the ones I am pondering this month:
"Be it done to me according to your (God's) will"

"My soul proclaims the greatness of God"


"Do whatever he (Jesus) tells you"
I want to learn from Mary how to be more available for the Holy Spirit, and I pray that Mary will help me — and others through me– to live Jesus' way of love .
As a  child growing up in a Catholic environment,  my classmates and I had May altars in school and May processions with special songs and prayers to keep us alert to Mary. These  practices left their own mark on me, one that prepared me to look to  Mary as "Mother" and role model.
Later on, in my teen years, I had to rediscover Mary as someone far more complex than the pious statues and paintings once presented themselves to me.  Eventually,  I was drawn to enter a community dedicated to Mary in the  setting of her "Visitation"  to her cousin, Elizabeth.   As our community brochure describes this,
"Visitation" refers to the momentous, intimate and joyful encounter of Mary, the mother of Jesus, with her cousin, Elizabeth.  Each woman lived a radical openness to the Holy Spirit; each needed the support and companionship of the other; each responded humbly, gently, and with great liberty of spirit to the designs of God in her life.  Such a way of life is the vision for Sisters of the Visitation."
Our founder, St. Francis de Sales, wanted  his new community  to be named after this Gospel event known as "The Visitation"  because it was a story of  women in  relationship with God and each other. It is less showy than many  other Gospel stories,  and it offers countless opportunities for reflection about God at work in daily life.   I agree!  After many years  of reflecting on the two women of  this Gospel scene,  it is still a fresh and inviting passage for me in my own faith journey.
The month of May ends with the Feast of the Visitation on May 31.

May I recommend  a reading of the Visitation Gospel,  (Luke 1 :39-56)  a few times during this month of May?

I suggest that it be read first as if you were "Elizabeth" — the one needing Mary. What is it that you need from Mary's presence in your life? How do you greet her when she comes  to visit your heart ?
Next, read it as if you were Mary needing Elizabeth.  What is it that you need from the "Elizabeth's" in your life?  Do you let  your "elders in faith" support the "God life" within you?
Finally,  read and pray Mary's "Magnificat"– her song of praise and justice.  Then take out a pen and paper  and let the Spirit lead you in writing your own hymn to God!

Perhaps you will share some of  your reflections in the Blog response section below? (Please do!)
As we reflect on these two women of faith, let us also be mindful of women around the globe who may need someone to visit them in prayer.
Put a few spring flowers  on your own May altar and welcome a "heart to heart" visit  from the woman who proclaims and lives the greatness of our God.