Written by Elizabeth Eilers Sullivan, Visitation Alumna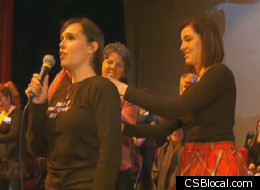 Last Monday I went back to Visitation Mendota to witness another alumna, Liz Edwards Hewitt, tell the Visitation students her story of surviving breast cancer. A story which led to her deep conviction that it is imperative to advocate for your health. She wanted to catch their attention and decided a good way to do so was to cut her hair on stage for Locks of Love and Beautiful Lengths. As she planned this all-school convocation she invited others to participate. One hair cut on stage led to 33 haircuts of students, faculty, staff, and even parents contributing their hair for people who need wigs due to cancer, alopecia or other medical reasons.
I sat on the steps of the auditorium with my three younger boys and watched as my former teacher and basketball coach, Connie Colon Parsley, cut Liz's pony tail, and listened to Liz say, "Look around you, the relationships you make here are important. They will carry you through your life. Take care of them." As I sat in that auditorium, my coat still on, and a hat on my head because of my own alopecia my spirit swelled to be part of this community. To still be in relationship with Visitation through my own friends, through the sisters, and through the school in Mendota Heights and the Monastery in north Minneapolis.
Sr. Mary Paula, stood and shared how she is a breast cancer survivor and what it meant to be able to get a wig when she lost her hair so many years ago. As my boys and I took in the morning, I wanted to say to the students there:
Liz is right it is the relationships that carry you through the joyous and difficult moments of life. While I do not have cancer, but alopecia, I never realized how much hair, having it, losing it, giving it away can define you. But it doesn't have to define you. You do not have to shrink away from the spot light because of an illness. Nor do you have to explain it. Your beauty comes from that deep reservoir of beauty inside of yourself, your spirit. My spirit is brighter having known the Visitation Sisters, having been steeped in the Salesian tradition, and having been sent out in the world to share the Visitation spirit and tradition with others.
My heart swelled that morning as I watched 33 women donate their hair and 33 stylists dedicate their time to cut and style them. At one point a friend of mine, who was on stage, held her cut locks in a bag and looked in my direction, and winked. Tears brimmed as I basked in her act of sweet solidarity.
I invite you into relationship with the Sisters of the Visitation, like so many of their relationships in north Minneapolis it can start by simply ringing their doorbell.