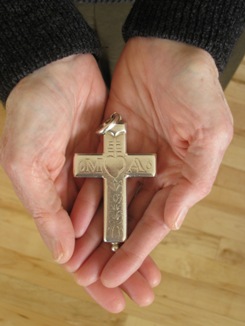 The Visitation Sisters of Minneapolis: An Urban Contemplative Community
The Visitation Sisters of Minneapolis are answering a call to a unique way of life: a contemplative community in the inner city. As a contemplative religious community, our foremost contribution to the Church is praying the Liturgy of the Hours, for which we gather together throughout the day every day. Our hope is that our community of quiet, peace, and joy that we nurture with prayer can overflow into our neighborhood. We seek to connect with our neighbors, who are often the poor and the marginalized, and to bring the love of Jesus to them in everyday life.

Courtesy of Melissa Borgmann-Kiemde, this video is a beautiful window into the communal lifestyle of the Visitation Sisters with the North Minneapolis neighborhood.

If you are interested in learning more about the Visitation Sisters, please check out our mission statement, the guiding spirituality of our Order, and a brief history of our community. You can also get to know each of the Sisters individually. Most importantly, read about our ministries of Prayer and Presence, and join us for them! We would love to have you for Wednesday Mass or Saturday Morning Prayer, for instance, or for Salesian Second Monday Nights (community-and-study dinners from October to April) or gardening on Tuesdays during the summer. We look forward to meeting you!