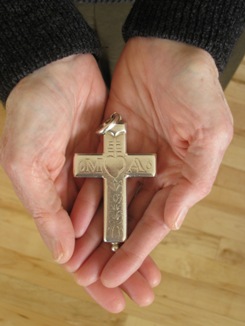 Since the establishment of our monastery with its unique way of living the monastic life, the community has almost doubled in size. Six sisters are finally professed.
In 1989 four sisters were missioned by the Second Federation of Visitation Sisters in the United States to express our contemplative life by living, praying and ministering to those who are often disregarded in our society. We came to North Minneapolis to discover, through relationship with the people of the neighborhood, the Christ active in our city. The main characteristics of the Visitation way of life are prayer, community and presence.
Prayer
Daily Eucharist, chanting the Liturgy of the Hours and personal prayer form the center of our commitment to be contemplative women. While together in prayer we faith-share, building a community of faith, a community that extends to neighbors who join with us.
Community
A monastic community lives as a family of adults. St. Francis de Sales counseled the Visitation Sisters to have the bond of love with each other, which is the bond of perfection. For us this ideal is imperative, because we are in this neighborhood to help others know and experience community.
Uniquely, we are two houses, one monastery. Monastic responsibilities are as varied as cooking, preparing liturgies, and tending our garden. Leadership is in the monastic tradition, yet with mutuality and sharing as we live our life and make decisions.
We have ever before us the "beloved community" envisioned by Martin Luther King: a community of truth and reconciliation.
Presence
In the heart of a multicultural neighborhood in Minneapolis, with the city skyline in full view, we are given many opportunities to welcome people of all backgrounds for prayer and hospitality. We have chosen to think of our neighborhood as our "cloister garden." People are present to us sharing their needs and also their desire to help us in ours.